Genuin FS 1 MK 2 in Halle
Hansjörg hat mir geschrieben: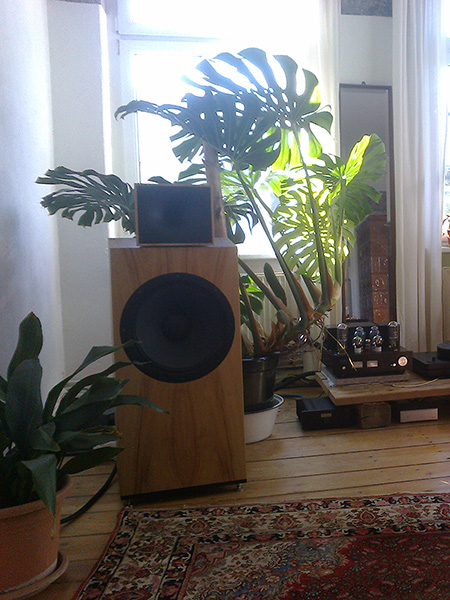 In search for simplicity and great sound, I built up my system around a pair of Blumenhofer Acoustics Genuin FS 1 MK II.My one and only source is a Levar Conazona Turntable with a DS Audio E1 System. The signal is amplified by a Line Magnetic LM-805 IA (some tubes rolled). For power supply I use a Shunayata Research Denali 6000/S v2. Cables: Cammino M 15.3 Reference Power cord from the wall socket to the Denali, Shunyata Research Alpha NR v2 and Sigma NR v2 for PhonoPre and Amp respectively, WK Audio The One (blue) for the Turntable Power supply, and Stockfisch's brillant cable series for connecting the Phono section to the Amp and the Amp to the Speakers (RCA-Pro and TTC-Pro, BiWiring).The Rack I built myself.On the way to that system I came in contact with many people. Professional sellers who rented and sold me components, and music lovers who gave me advices, bought components from me and sold me components on the 2nd hand market. I want to thank all of them fellows.Among the professional HiFi dealers I'm grateful especially to: Uni HiFi Leipzig – it was in their shop, where I first stumbled upon a pair of Blumenhofer speakers (the Genuin FS 3 MK II) and fell in love with the sound and design of this series; Tibor Szegedi (Ultimate AV Kft. Budapest) – he sold me a pair of FS 2 MK II (I later exchanged for my FS 1), sent me a lot of cables for testing, sold me my Line Magnetic Amp and the WK Audio and Cammino Cables, and gave me many advices; Dieter Molitor and Viola Vieregge (MHW Audio, Sonthofen), the distributers of Levar and Stockfisch, and the brains behind the products: Helmut Biermann (magAudio, Ebertsheim), the man who developed and built the Levar Canzona (and the Ultimate), two exciting turntables, and Günter Pauler (Stockfisch Records/Pauler Acoustics, Northeim), the constructor of TTC-Pro and RCA-Pro cables. I also have to thank Thomas Dressel (Schlegelmilch HighEnd, Hassfurt) and Christian Müller (HiFi Bamberg), my Shunyata guys.The component that kept me searching for the optimum always was the FS 1 MK II. These speakers can do everything. Chapeau à Blumenhofer Acoustics!
Weitere Traumsysteme
Die Anlage
Blumenhofer Genuin FS 1 MK 2
Levar Conazona Turntable
DS Audio E1 System
Line Magnetic LM-805 IA
Shunayata power strip
Cables from Cammino, Shunayata, Stockfisch
Rack own creation